About Columbia County Commissioner Alex Tardif
Alex Tardif was elected to his first four-year term as Columbia County Commissioner for Position 3 in May 2016 and sworn into office on January 3, 2017.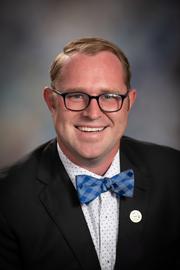 A proud, life-long resident of Columbia County, Alex Tardif believes in good government and open communications. Alex's interest in public service stems from his desire to create viable and sustainable solutions to the needs of a growing Columbia County. A tax accountant by trade, he began his first year on the board as budget officer. Continuing in this role through 2019, Alex uses a holistic approach to using taxes to allocate funds for county spending, making changes to past practices and funding areas most in need. As chair of the county's revenue committee, he convened an array of local community members to study and asses the county's funding needs and provide long term funding solutions.
His other areas of focus on the commission include maintaining and expanding agricultural opportunities in the county, transportation infrastructure, parks, and expanding recreational use of the county's natural areas through tourism. He also believes marketing Columbia County and leveraging its assets such as rail, docks along the river, and roadway infrastructure are important for growth. He has been a champion for technological advancements within the county and is a supporter of developing a broadband fiber loop in Columbia County to provide consistent and reliable internet to all residents, as well as to enhance economic development opportunities.
Alex serves on the Local Public Safety Coordinating Council and the board of directors for Columbia Community Mental Health where he works to understand and provide meaningful solutions and policy to address the mental health and criminal justice intersect. He is also a strong advocate for developing and enhancing opportunities for the youth in our county. To achieve a sustainable future, he is invested in reducing solid waste by looking at options to reduce, reuse and eliminate unnecessary tonnage transported to landfills while creating value-add products.
In 2018, Alex was elected Treasurer of the Association of Oregon Counties. AOC is an advocacy group for Oregon's county governments, and brings county officials together as a collective voice on state-wide and national policy, to exchange ideas, and to build leadership skills while enriching the public's understanding of county government.
Prior to joining the Columbia County Commission, Alex worked at an international software company where he managed the tax and payroll departments.
A graduate of Scappoose High School, Alex went on to earn a B.A. in Business Administration with a degree in accounting from the University of Portland. He completed the OSU/AOC County College course and earned a certificate from the Colin Powell Professional Development Academy. Alex enjoys learning and continuing to grow both personally and professionally.
"I believe in transparent, accountable government that listens to the community and provides meaningful, sustainable solutions that address the needs of today," Alex says. "I will work to preserve our unique rural culture while developing and enhancing opportunities for all to prosper."
Alex continues to live in Scappoose, and is married with one child. He enjoys spending time on his small farm raising pigs, chickens and horses, and being with his family.