About Columbia County Commissioner Kellie Jo Smith

Kellie Jo Smith was elected to her first term of office in November 2022 and was sworn into office in January 2023.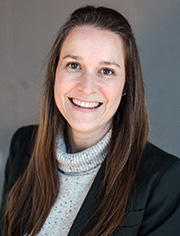 A third-generation resident of Columbia County with more than a decade of public service experience, Commissioner Smith's family has owned and operated the bowling center in St. Helens, Oregon Trail Lanes, since 1981. She wears many hats at the family business, including CFO, Compliance, HR, Marketing, and Planning.
Kellie Jo is an experienced community collaborator and networker who passionately invests much of her time volunteering in Columbia County. Drawn to our schools and helping our children through advocacy, she is an active parent volunteer. In addition to many years of assisting in local youth activities as a Player Agent for St. Helens Little League and several years of coaching for youth basketball, she has served as a St. Helens School District Board Member since 2013. She has served as Board Chair, Board Vice-Chair, Chair of the Budget Committee, and on many facilities and student and parent committees. Kellie Jo co-Chaired the two bond committees responsible for obtaining the funding to build two new schools, Plymouth High School and St. Helens Middle School, and the upcoming renovation of St. Helens High School. In addition, she has been a core team leader for Connect St. Helens, helping to plan, execute, and administer many community projects. Kellie Jo has volunteered as a Columbia County Sheriff's Office Reserve Deputy.
As a County Commissioner, Kellie Jo focuses on connecting our communities, economic growth, public safety, creating opportunities for our youth, and protecting civil rights and liberties.
"I am grateful to the citizens of Columbia County for giving me this opportunity," Commissioner Smith said. "I will maintain open lines of communication and continue to foster, support, and advocate for our community and its residents."
Kellie Jo and her husband, Brandon, met during high school and married almost 19 years ago. They have seven biological, adopted, and foster children. They have been foster parents since 2015.
Contact Commissioner Kellie Jo Smith