Medical waste and sharps
Information about disposal of medications and our sharps container exchange program
"Sharps" is a medical term for devices with sharp points or edges that can puncture or cut skin. These can include hypodermic needles, fingersticks and "pen" injectors.
In Oregon, it is illegal to throw sharps in the trash. Doing so can expose garbage haulers and other disposal workers to possible injury or disease. Sharps containers are readily available at the Columbia County Transfer Station and several pharmacies throughout the county.
If you use sharps at home, follow these easy steps to use our container exchange program:
enroll at the Columbia County Transfer Station scale house at 1601 Railroad Ave, in St Helen, OR
for just $5, you get a new sharps disposal container at no cost each time you submit a full one for proper disposal
bring your full sharps container back to the scale house 8 a.m. - 5 p.m., Monday - Saturday for proper disposal
receive a new empty container at no cost
post this flyer→ in your home for easy reference.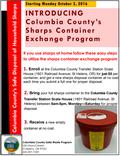 Medication and prescriptions
Expired, unused or unwanted medications and prescription drugs can be dropped into the MedReturn collection boxes in the Rainier, Vernonia, Scappoose and St. Helens police departments Monday through Friday from 8 a.m. - 5 p.m. (St. Helens Police Department is closed from noon to 1 p.m.)