What is Household Hazardous Waste?
Keeping the environment clean and protecting fish and wildlife habitat as well as water quality are some of Columbia County's goals.
Many items used around the home, including cleaning, gardening, and automotive products are considered hazardous and can't be placed in garbage bins or disposed of through regular recycling. Toxins in these products can present potential safety and health hazards to people, pets, and water quality. The most common products include aerosols, anti-freeze, fertilizers, motor oil, paint supplies, photo chemicals, poisons, and solvents. Items that have labels that contain the words flammable, toxic, corrosive, reactive, warning, caution, dangerous, combustible, ignitable, and oxidizer can be toxic and should be disposed of properly. 
Columbia County sponsors free household hazardous waste collection events throughout the year in St. Helens, Vernonia, Rainier, and Clatskanie. Check the schedule for events in 2022 and a list of items that can and cannot be accepted.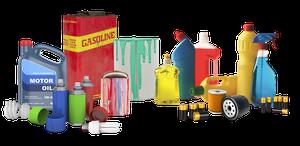 Common hazardous household items
NOTE: not all of these items are accepted at certain HHW collection events. Please check the schedule. 
ammunition (small arms)
antifreeze
aerosols, air fresheners, and deodorizers
art, craft, and hobby chemicals
batteries - vehicle, rechargeable, button, alkaline batteries
beauty products such as fingernail polish and remover, and some hair products
cleaners (bleach, detergents, degreasers, disinfectants, drain cleaners, deck cleaners, hand cleaners, oven cleaners, polishes, waxes)
colorants and tints
compressed gas cylinders
explosives, fireworks, and flares
fire extinguishers
flea control products
fluorescent ballasts and lamps
fluorescent tubes
gasoline, kerosene, diesel fuels, lighter fluid
glues, epoxies, adhesives, and caulking compounds
lawn and garden chemicals (moss killers, fertilizers, herbicides, pesticides, poisons)
light ballasts—please remove from the light fixture
mercury (items containing mercury can include ballasts, barometers, blood pressure gauges, fluorescent lights, high-intensity discharge (HID) lamps, silent wall switches, thermometers-medical and household, thermostats)
motor oil, lubricating oils, windshield cleaners, brake fluid, transmission fluid, antifreeze
pool and spa chemicals
propane tanks and bottles
paint and paint products (latex and acrylic paint, spray paint, marine paint, automotive paint, oil-based paint, enamel, stains, lacquers, shellacs, varnishes, primers, wood preservatives, paint additives)
poisons
roof patching and repair materials
solvents, resins, thinners, mineral spirits
tar, pitch, and bitumen-based products.
Non-acceptable items
any material containing asbestos
bio-medical waste
dead animals
radioactive materials
garbage or trash
liquids in containers larger than five gallons will not be accepted
unwanted/unused medicine and pharmaceuticals.
How to reduce your use of hazardous waste
find less-toxic ways to clean, maintain, repair, and improve your home, control pests, and care for your pets
choose less toxic products in your home and garden
select or make your own safer alternative products when you can
buy only what you need and will use in a reasonable amount of time
share leftovers with those who need them.