COVID-19 Reopening Plans
Oregon
April 20, 2020 Reopening Oregon: A Public Health Framework for Restarting Public Life and Business→
May 7, 2020 Reopening Oregon: Press Conference→
May 14, 2020 Reopening Oregon: Press Conference→
June 3rd, 2020 Reopening Oregon Phase II: Press Conference→
Columbia County
May 15th, 2020
Columbia County COVID-19 Reopening Framework Phase I→
Columbia County Approved to Reopen for Phase I→
June 4th, 2020
With the help of Columbia County Public Health and Emergency management, and with approval from Board of Commissioners, the application for Columbia County to enter phase II of reopening has been approved and will be affective starting June 5th, 2020
Columbia County Approved to Reopen for Phase II→
Phase II is the last full phase of reopening until there is a widely available treatment or a vaccine for COVID-19. The Columbia County Public Health Department will continue to closely monitor the six public health indicators established by the Oregon Health Authority to many any increase in new cases that may arise moving forward.
Have questions about what parks and outdoor recreation areas are opening in Columbia county? Check out Columbia County Park, Forest, and Recreation Department→ or call 503-397-2353.
Reopening Life
As communities and businesses are opening, you may be looking for ways to resume some daily activities as safely as possible. While there is no way to ensure zero risk of infection, it is important to understand potential risks and how to adopt different types of prevention measures to protect yourself and to help reduce the spread of COVID-19.
Preventative measures-The safest thing to do is continue physically distance yourself, avoiding non-essential travel, limiting time spent with people outside of your household, wash hands frequently, and wear a face covering when out in public and when physical distancing can not be maintained.
Create a bubble-Your bubble includes everyone you live with and everyone you spend time with outside of your house. Keep your bubble small so you can keep track of everyone in it. If someone in your bubble gets sick, you'll know if you or anyone else in your bubble has been exposed and needs to get care. By limiting your bubble to the same small number of people, you can lower your risk for COVID-19 and the risk of exposing others.
As a reminder, if you have COVID-19, have symptoms consistent with COVID-19, or have been in close contact with someone who has COVID-19, it is important to stay home and away from other people.
Please visit CDC What to Consider Before You Go Out for guidance→ on activities such as:
going to the bank
dining at restaurants
hosting gatherings or cook-outs

using gyms and fitness centers
going to nail salon
visiting libraries
traveling overnight
Help us prevent the spread of COVID-19 as you start to plan summer activities.
Consider the following when assessing risk with youth sports→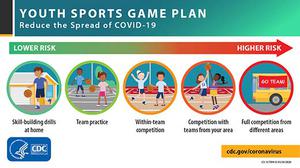 Resources
All information, executive orders, guidance, and status on reopening can be found on Governor Kate Brown's web page→
Prequisites for phased reopening of Oregon→
Oregon County Reopening Status Chart→
Reopening Guidance Tool→ Use this tool to understand which guidance to follow for reopening
Guidance for all sectors and the public:
Reopening Guidance:
For Phase I and Phase II reopening guidance, please vist Governor Brown's Website→
PPE for businesses:
Business Oregon's updated list of vetted PPE sources→ in Oregon. Please note that some are manufacturing/selling thermometers.
Interested in applying for a position as a contact tracer? The Oregon Health Authority has a contact tracing interest form→ on their website.