Adults 65 years and older, and people of any age who have serious underlying medical conditions may be at higher risk for more serious complications from COVID-19. People with underlying health conditions are counting on all of us to help protect their health. If you or someone you know has any of the following medical conditions, they may be at increased risk, no matter their age:
Lung disease, including asthma or chronic obstructive pulmonary disease (chronic bronchitis or emphysema) or other chronic conditions associated with impaired lung function or that require home oxygen
Compromised immune system (immunosuppression) (e.g., seeing a doctor for cancer and treatment such as chemotherapy or radiation, receiving an organ or bone marrow transplant, taking high doses of corticosteroids or other immunosuppressant medications, HIV with a CD4 count <200)
Blood disorders (e.g., sickle cell disease or on blood thinners)
Chronic kidney disease
Chronic liver disease
Current or recent pregnancy (in the last two weeks)
Endocrine disorders (e.g., diabetes)
Metabolic disorders (such as inherited metabolic disorders and mitochondrial disorders)
Heart disease (such as congenital heart disease, congestive heart failure and coronary artery disease)
Neurological and neurologic and neurodevelopment conditions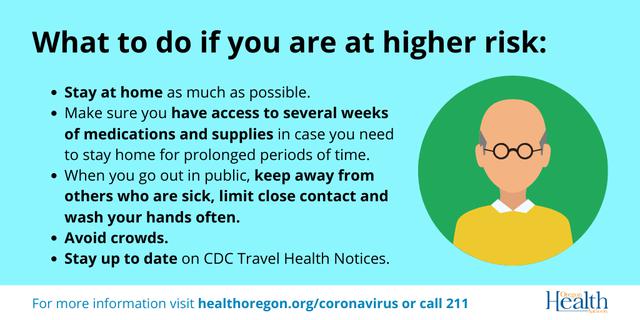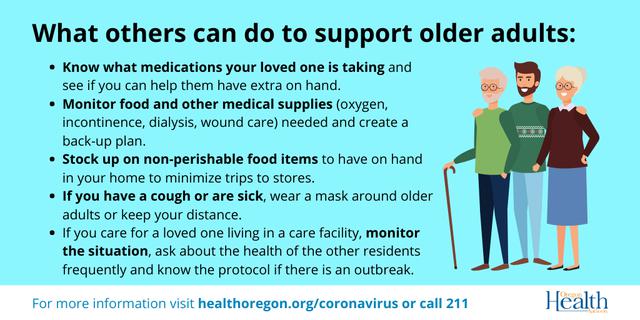 Resources
CDC: Are You at Higher Risk for Severe Illness?
CDC: Groups at Higher Risk for Severe Illness
OHA: COVID-19 Guidance for People with Disabilities, Older Adults and People with Underlying Health Conditions