District Attorney
Welcome from Columbia County District Attorney Jeff Auxier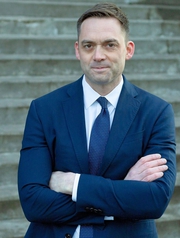 Thank you for visiting the webpage of the Columbia County District Attorney's Office. I am honored that the residents of Columbia County have elected me to represent them. It is the goal of my office, which includes Deputy DAs, investigators, victim advocates, and child support staff, to diligently and compassionately serve our residents in all criminal matters. My office applies equal justice under the law to protect the community and ensure that victims and witnesses of crime are treated with compassion and respect. Please read through our web pages to learn how we may assist you, or contact us via phone or email.
The District Attorney's Office
The Columbia County District Attorney's Office represents the State of Oregon prosecuting all felony crimes as well as the vast majority of misdemeanors, including aggravated murder, child abuse, sex trafficking, drug crimes, domestic violence, DUIs, and other traffic crimes. The DA and his staff seek justice by fairly and impartially enforcing laws as well as advocating for victims' rights. By managing these activities, the District Attorney helps to make Columbia County a safe and healthy place to live, work and do business. Divisions in the District Attorney's Office include Criminal, Child Support Enforcement →, and the Crime Victims Assistance Program →.
Besides prosecutions, our office also handles civil or quasi-civil matters, such as child support enforcement, paternity cases, and mental commitment hearings. We also assist with juvenile delinquency cases. The District Attorney is also required by statute to advise other agencies, such as the Civil Service Commission, certain districts upon request, ballot title review, and ruling on public records disputes.
The Columbia County District Attorney's Office is part of a law enforcement partnership that includes the Columbia County Sheriff's Office → and the Department of Community Justice →, as well as local municipal police agencies and the Oregon State Police.
The District Attorney's Office also contributes to the County's public safety network as a member of the Local Public Safety Coordinating Council, the Child Abuse Multi-Disciplinary Team (MDT), the Elder Abuse MDT, Child Fatality Review Team, and the Columbia County Major Crimes Team.
The Columbia County District Attorney is an elected office with a term of four years.
The District Attorney prosecutes on behalf of the people of Oregon and does not represent or give legal advice on behalf of individual citizens. For private matters, please contact a private attorney. Lawyer referral services are available through the Oregon Bar Association → and the Oregon State Bar →.