The District Attorney's Victims Assistance Program assists victims of crime and helps them recover in the aftermath of their experience. 
Our highly-trained advocates are available to provide victims with accurate information, advocacy services, and resource information, to promote participation in the criminal justice system by educating them about their rights and to advocate for the enforcement of these rights, and to coordinate with other community agencies to ensure continuity of support. Every effort is made to ensure crime victims are treated with dignity and respect, that their rights are honored, and they are informed throughout the criminal justice process.
Crime Victims Rights →
Protective Orders →
Restitution →
Our services include:
providing Victims' Rights Notification, informing victims of the rights granted to them under Oregon Law
assisting victims in preparing and submitting Crime Victims' Compensation Program claims
ensuring that victims are informed, upon request, of the status of the criminal case involving the victim
encouraging and facilitating victims' testimony
assisting victims in preparing restitution documentation for purposes of obtaining a restitution order
preparing victims of court hearings by informing them of procedures involved  
accompanying victims to court hearings when practicable and requested
involving victims when practicable or legally required in the decision-making process in the criminal justice system
informing victims of the process necessary to request the return of property held as evidence.
assisting victims with the logistics related to court appearances when practicable and requested. 
encouraging and facilitating victims' testimony
acting as a liaison in locating and utilizing resources to improve the crime victims' safety, emotional and mental health.
Please note: "Victim" is a legal term. The laws that give individuals particular rights and legal standing within the criminal justice system use this term. "Victim" means the person or persons who have suffered financial, social, psychological, or physical harm as a result of an alleged crime and includes, in the case of a homicide, a member of the immediate family of the decedent and, in the case of a minor victim, the legal guardian of the minor. 
Meet our facility dog "Tilda"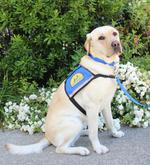 Tilda joined our office in June 2018. Tilda was bred and trained by Canine Companions for Independence, a non-profit organization that has been training and placing assistance dogs for nearly 44 years. Their facility dogs are bred for optimal temperament to work with children and adults in courtrooms, public settings, and in facilities where stress levels are high. Tilda and her Handler are both certified by Assistance Dogs International. They both have passed standardized practical tests and have continuous ongoing testing to keep their team certification current.