Public Hearing in the Matter of the Rate Adjustments for Food, Pool, and Lodging Licenses and Services in Columbia County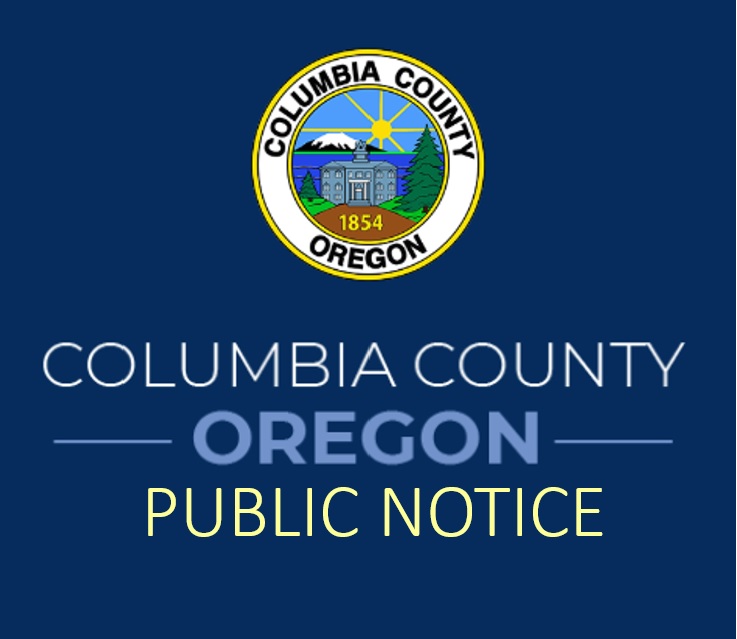 BEFORE THE BOARD OF COUNTY COMMISSIONERS
FOR COLUMBIA COUNTY, OREGON
NOTICE OF PUBLIC HEARING PUBLICATION
In the Matter of the Rate Adjustments for Food, Pool, and Lodging Licenses and Services in Columbia County.
The Board of County Commissioners will hold a hybrid public hearing on Wednesday, June 14, 2023, at or after 10:00 a.m. from the Commissioners Meeting Room, Room 310, at the County Courthouse, 230 Strand Street, St. Helens, OR. To join the meeting virtually, please log in to https://global.gotomeeting.com/join/357054141. United States (Toll-Free): 1 866 899 4679 Access Code: 357-054-141
The purpose of this hearing is to consider the proposed 8% rate increase for food, pool, and lodging licenses and services for residents and businesses in Columbia County, Oregon, effective July 1, 2023. The proposed fee schedule will also include new fees for replacement food handler cards, and a fee for hourly environmental health consultation with a specified 1-hour minimum and remove fees for separate seasonal event temporary restaurant licenses and operation review for seasonal licenses and replace with a single combined fee and remove fee for food hander classroom instruction. The proposed fee schedule is available on the County's website at: www.columbiacountyor.gov/departments/BoardofCommissionersOffice/Hearings.
This is a public hearing. Interested parties may appear and be heard. Columbia County does not discriminate based on disability and will provide reasonable accommodations in accordance with the County's ADA Policy. To request accommodations or to review the County's ADA Policy, please contact the Board of Commissioners' Office at 503-397-4322.
For additional information regarding the proposed rate adjustments, please contact Jaime Aanensen, Public Health Director, at 503-397-7232 or jaime.aanensen@columbiacountyor.gov
Dated this 1st Day of June 2023
FOR THE BOARD OF COUNTY
COMMISSIONERS
COLUMBIA COUNTY, OREGON
BY: Jacyn Normine
Jacyn Normine,
Board Office Administrator
PUBLIC HEARING NOTICE for PUBLICATION
CHRONICLE, please publish in your June 7, 2023, EDITION
Columbia County Public information, please publish to the County's website.