For Immediate Release: Keep Columbia County Open Messaging Campaign Launched for Safely Reopening
Date: 05/22/2020
Contact person: Suzanne Beaupre, Health Promotion Specialist
suzanne.beaupre@columbiacountyor.gov
FOR IMMEDIATE RELEASE
Keep Columbia County Open
Messaging Campaign Launched for Safely Reopening
Columbia County, Ore. – Today Columbia County Public Health and the Joint Information Center announce the "Keep Columbia County Open" campaign. With the approval of the Columbia County Board of Commissioners, Governor Brown announced Columbia County may enter Phase 1 of reopening. Read the guidelines for reopening here: https://govstatus.egov.com/or-covid-19 .
All of us play an important part as Columbia County begins to slowly reopen. Here is what all members of the community can do to keep things open as we move forward:
Physical Distance:

Be at least 6 feet from people you don't live with. Stay home if you are sick. Avoid non-essential trips. Stay close to home and avoid trips outside your community

Protect Others:

Cover your cough and sneeze with elbow or tissue. Avoid touching your face. Use face coverings in public.

Keep Clean:

Frequently wash your hands for at least 20 seconds or use hand sanitizer with at least 60% alcohol. Frequently clean your work and living space, especially frequently-touched places like doors and handles.
The best way to prevent the spread of COVID-19 until there is a cure or a preventative treatment is to follow these guidelines.
Together, We Can Keep Columbia County Open.
For updates on reopening, please go to
To reach Columbia County Public Information Officers for COVID-19 response:
Suzanne Beaupre: 503-396-0007 - suzanne.beaupre@columbiacountyor.gov
Della Graham: 503-396-9159 - della.graham@columbiacountyor.gov
Julie Thompson: 971-757-4051 - public.info@columbiacountyor.gov
Columbia County Call Center: 503-397-7247 – health@columbiacountyOR.gov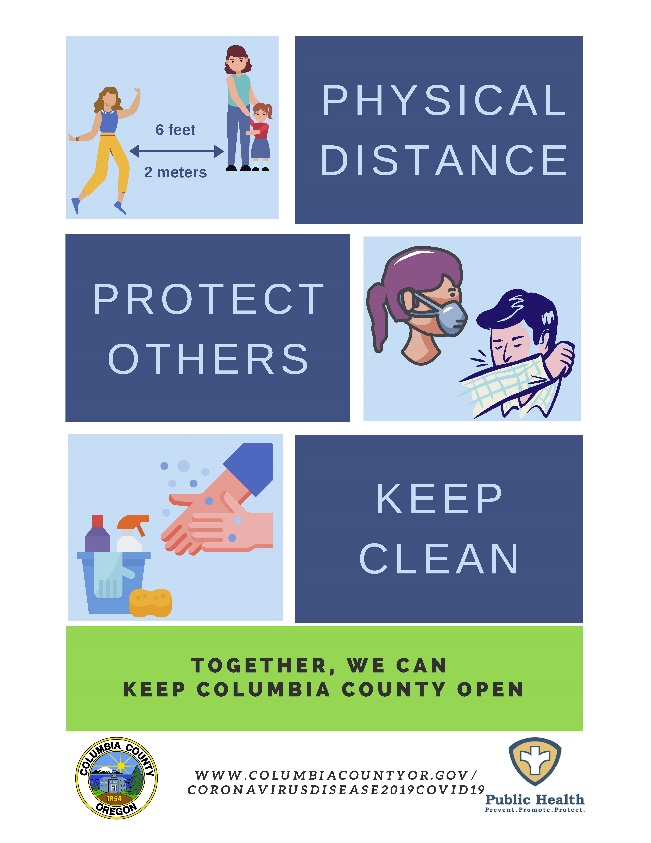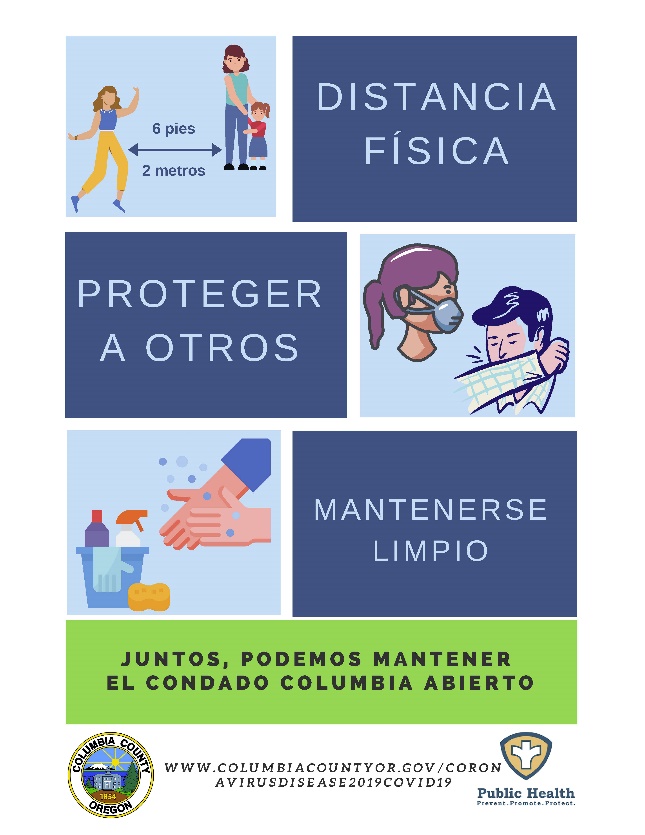 ###
More:
Home Page News
News releases
Public Health