October 17, 2019
The Historic Columbia County Courthouse is a fixture in this area. An icon emblazoned on logos, labels, signs and many other items, it is a meme of sorts, an image that identifies our local culture and pride. Built 114 years ago, the courthouse, which is listed on the U.S. National Register of Historic Places, emits a sense of stability, of long standing strength and dignity. But not all things are meant to, or are able to, last forever. Though the bulk of the County Courthouse is constructed of stone and is in good shape, some of the exterior wooden elements are showing their age.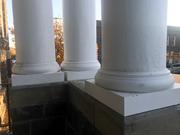 Repairing and replacing historic structures can be tricky. No one wants to lose the details that make a building beautiful, but sometimes those details are difficult to replicate, only to crumble again.
Thus is the fate of the bases supporting the stately columns on the building. According the Casey Garrett, the county's General Services Manager, the wooden bases have rotted, and not for the first time, presenting a danger to the columns themselves.
But how do you remove and replace a formerly solid piece underlying a 250 pound element without having to remove the entire unit? And why use a material that would only decompose again? Garret set out to find out how to do just that.
Using ingenuity and 21st-century technology, he collaborated with designers and engineers to come up with a solution. Working with Composites Universal Group in St. Helens, the team studied a variety of non-wood materials. They researched an assortment of high-density foam products, and chose the best one for this project. The thick but lightweight foam, according to CUG's Larry Hinman, is designed specifically for external use and will not rot.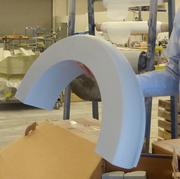 CUGs engineers took Garrett's 3-D drawing of the bases, made adjustments to the final design, and converted the information for its giant CNC (computer numerical code) router to cut and shape. CUG's CNC router is one of the largest in the area. With a base of 20 X 10 feet, the machine is able to create parts suitable for items as large as airplanes.
They column bases were manufactured in two pieces, with the hardware to connect them also designed and built by CUG.
Garrett's team supported the lathe and plaster columns with jacks, removed the rotted wood, then installed the news bases. The bases were then coated with an epoxy primer and finished with a marine grade coating after installation. The new foam bases resemble the carved wood that embellished the building for more than 100 years.
"Using high-density foam is a cost-effective, long-term solution to an age-old problem" Garrett said. "We won't have to worry about the bases for a very long time, giving us the ability to focus on other restoration and maintenance projects on our historic courthouse.
More:
Home Page News
News releases