ST. HELENS, Oregon - The National Weather Service (NWS) has issued an Excessive Heat Warning until 7 pm on Saturday. Dangerously high temperatures are expected for the next few days, peaking on Friday with temperatures expected to exceed 100 F. This extreme heat will significantly increase the potential for heat-related illnesses, particularly for those working or participating in outdoor activities.
The NWS provides a HeatRisk forecast tool which provides a quick view of the heat risk potential over the upcoming seven days. Here are screenshots of the HeatRisk forecast for Thursday and Friday.
You can find this supplementary NWS tool at https://www.wrh.noaa.gov/wrh/heatrisk/?wfo=sto. 
Take extra precautions before working or spending time outside.  Drink plenty of fluids, stay in an air-conditioned room, stay out of the sun, and check up on relatives and neighbors. Wear lightweight and loose-fitting clothes. When possible, reschedule strenuous activities to early morning or evening. The Occupational Safety and Health Administration recommends frequent rest breaks in shaded or air-conditioned environments.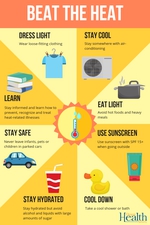 https://www.oregon.gov/oha/ERD/PublishingImages/Beat%20the%20Heat.png
Be aware of your surroundings. Harmful algae blooms can increase in bodies of water during hot weather, especially when the water levels are low. Young children and pets should never be left unattended in vehicles under any circumstance.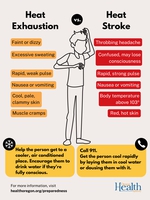 https://www.oregon.gov/oha/PH/PREPAREDNESS/PREPARE/PublishingImages/Heat-Stroke-vs-Exhaustion.png
Organizations around the county are opening up to help the community stay cool! Cooling Centers are open at:
Scappoose Public Library – (503) 543-7123
Wed-Fri: 10am-6pm, Sat: 10am-3pm
52469 SE 2nd St, Scappoose, OR 97056
(Note: Access to the library may be affected by the Scappoose Centennial festivities)
St. Helens Public Library - (503) 397-4544
Wed-Thu: 10am-7pm, Fri: 10am-6pm, Sat: 10am-2pm, 
375 S. 18th Street, St. Helens, OR 97051
Vernonia Public Library – (503) 429-1818
Wed: 10am-5pm, Thu: 12pm-7pm, Fri: 10am-5pm, Sat: 12pm-5pm
701 Weed Ave, Vernonia, OR 97064
Rainier Public Library - (503) 556-7301
Thu: 10:30am-6:30pm, Fri: 10:30am-4:30pm, Sat: 10:30am-2:30pm
106 W B St, Rainier, OR 97048
Clatskanie Library District – (503) 728-3732
Thu-Fri: 10am-5pm, Sat: 10pm-2pm
11 Lillich St, Clatskanie, OR 97016
If you need more information about cooling centers in your area, call 211 or Columbia County Public Health at 503-397-7247; or visit the Columbia County Public Health Website at https://www.columbiacountyor.gov/departments/PublicHealth/hot-weather-and-extreme-heat.
Know the signs and symptoms of heat exhaustion and heatstroke. Move anyone overcome by the heat to a cool and shaded location. Heatstroke is an emergency! Call 9 1 1.