About Columbia County D.A. Jeff Auxier
Jeff Auxier was appointed to the Columbia County District Attorney position in 2017, sworn in on July 14th, and was elected to the position in 2018.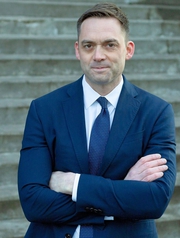 Jeff Auxier brings over 15 years of prosecutorial experience to Columbia County. Auxier enrolled in Willamette University College of Law in 2003, in pursuit of a career advocating for crime victims as a prosecutor. Never straying from that path, Auxier worked as an intern in the Marion County District Attorney's Office in Salem for two years before passing the bar and joining the Marion County Domestic Violence Unit as a full-time Deputy District Attorney in 2006.
Two years later, Auxier joined the Multnomah County District Attorney's Office, where he worked as a Deputy District Attorney from 2008 to 2017. During his time in Portland, Auxier's caseload included armed robbery, sexual assault, and murder cases as a member of the office's gang unit. He finished his career in Portland as the prosecutor assigned to EMGET, the East Multnomah County Gang Enforcement Team.
Even while prosecuting cases in Portland, Auxier was becoming deeply involved in the Columbia County community. Auxier moved out of Portland and bought a home outside of Scappoose in 2013, where he still resides with his wife and two boys. For four years, Auxier quickly became involved in his new community, serving on the boards of SAFE of Columbia County, Columbia County Legal Aid, and the Jail Operations Citizens Advisory Committee.
Auxier was appointed to the vacant District Attorney position in Columbia County in 2017 and was elected to the position the following year. Since becoming DA, he has served as Chair of the Columbia County Local Public Safety Coordinating Committee and was selected by his fellow elected District Attorneys to serve on the State of Oregon Criminal Justice Commission and the Board of Directors of the State of Oregon Department of Public Safety, Standards, and Training.
District Attorney Auxier supervises an office consisting of six Deputy District Attorneys, two victim advocates, a Child Support Enforcement Agent, and six professional staff members. Within the office, he is committed to data-driven prosecution policies, responding to community concerns, and giving a meaningful voice to crime victims. All inquiries may be sent directly to Mr. Auxier via email at Jeff.Auxier@columbiacountyor.gov or phone at 503-397-0300.