About Columbia County Commissioner Henry Heimuller
Henry Heimuller was elected to his first term of office in November 2010 and was sworn into office in January 2011. He was re-elected to his third four-year term in Position 2 in November, 2018.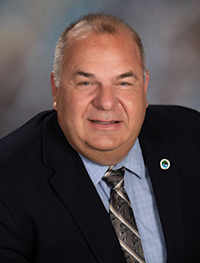 Henry Heimuller is a lifelong resident of Columbia County whose family can trace its county roots to the 1880s. Prior to being elected commissioner, Heimuller served as the Transit Coordinator for CC Rider, the county's transit service.
Heimuller is a trained paramedic who worked in the field for 29 years. In the past 20 years, his public sector and non-profit experience has also included serving on the boards of the Columbia 911 Communications District, the Northwest Oregon Housing Authority, the Northwest Ride Center, the Community Action Team and the RSVP Advisory Council. He also was an active member of the Columbia County Fair Board and the County's Citizens Transit Advisory Committee.
Among his areas of focus on the Board of Commissioners are transportation, health and human services, and economic development. He serves as chair on the state's Northwest Area Commission on Transportation, ODOT's Public Transportation Advisory Committee and is chair of the Columbia Pacific Economic Development District.
Active in the Oregon Association of Counties, Heimuller serves on the Legislative Committee and is co-chair of the Health and Human Services Committee. AOC, the statewide organization representing Oregon's 36 counties, provides services and functions that support the work of Oregon counties.
Heimuller also is active in the National Association of Counties, where he serves on the Agriculture and Rural Affairs Steering Committee.
During his first term as a commissioner, Heimuller worked successfully to restructure the struggling Columbia County Fair and Rodeo, making the 103-year old institution economically stronger. Faced with financial issues that would have defunded the fair, Heimuller and fair supporters brought the community together in town halls and other public forums to discuss alternatives. The outcome was setting up the first and only completely volunteer-run county fair in the state. Today the Columbia County Fair and Rodeo is solid, and enjoys increased attendance as well as community support.
Heimuller was also involved in restructuring public health services in the county, working to develop the Public Health Foundation of Columbia County, now called Columbia Health Services, after the former Columbia Health District dissolved.
Joining the board during the great recession also had Heimuller and his fellow commissioners facing lagging employee morale after a series of furloughs. But that situation brought him an opportunity of which he is very proud - an employee-driven project to create mission, vision and values statements for the county.
"You can either make tough decisions in a vacuum or lay all the cards on the table and ask those involved, in this case our employees, to come up with a solution," he said. "That conversation gave us a much more solid working relationship with our staff, and continues as we begin strategic planning for the county."
Heimuller graduated from Scappoose High school and earned a Paramedic Certificate through WFS-EMS from Portland Community College He is a graduate of OSU's County College and Willamette University's Transit Management program.
Heimuller also is a member of several local service organizations including Kiwanis Club of St. Helens, the Elks Club (BPOE 1999), the St. Helens and Rainier Masonic Lodges, the Columbia County Shrine Club and the Warren Grange, among several others.
He is married to his wife Pam and they have one daughter, Mikela.